Egg Roll in a Bowl is an easy, healthy dinner that is ready in under 20 minutes! This easy pork stir fry recipe is loaded with meat, vegetables and a sesame sauce.
Pork Stir Fry Recipe
I love a good stir fry meal (like our go-to Sesame Chicken Keto Stir-Fry), and this is no exception! This one pan recipe was such a hit at our house! Using tasty ground pork, crunchy cabbage, sweet carrots, tangy green onions, and a homemade chili garlic sauce, you won't believe how easily this keto recipe comes together.
The savory pork is paired perfectly with the crispy veggies. The chili garlic sauce is super simple to make and gives this dish a touch of saltiness and sweetness, but without the carbs! This Egg Roll in a Bowl combines some of my favorite simple ingredients while providing a ton of flavor.
You're also getting a generous serving of protein, vegetables and fiber in this 20 minute meal! Since this low carb recipe only requires one pan and little prep, you'll barely have any cleanup, making this perfect for an easy weeknight dinner recipe. This Egg Roll in a Bowl is also a great option for keto meal prep–Make ahead on a Sunday, pop into your meal prep containers, and you are ready for the week!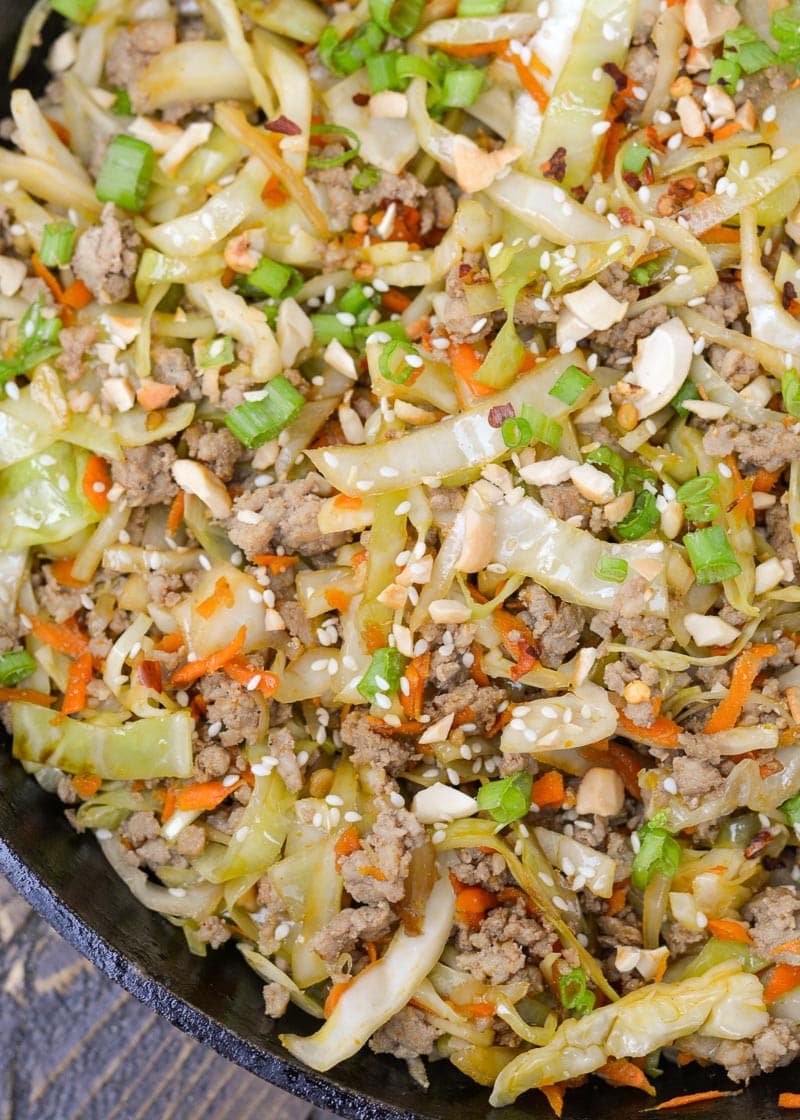 What is Egg Roll in a Bowl?
Think of this recipe as an egg roll but without the wrapper. Egg rolls are referred to as such because the wrapper contains egg, but we are omitting the wrapper in this recipe to cut down the carbs. So this Asian inspired meal has all the flavor of an egg roll, but it is much healthier. Egg rolls are usually deep fried, and this keto recipe doesn't require any oil.
Ingredients for Egg Roll Bowls
As always, this is a quick overview of the ingredients you will need for this recipe. To et the complete recipe, just keep scrolling.
Meat: ground pork is my favorite, but ground beef, chicken, or turkey will also work.
Vegetables: cabbage, carrot, green onions and garlic.
Sauce ingredients: soy sauce, rice vinegar, chili garlic sauce, and a sweetener of choice. If you are keto, stick with brown sugar monk fruit. If not, regular brown sugar or coconut sugar will work.
How to Make Egg Roll in a Bowl
First, brown and drain the pork (or whatever meat you choose). Next, add the cabbage and carrots to the skillet and cook over medium heat. While that's cooking, prepare your sauce. Add the garlic, soy sauce, whatever sweetener you choose, rice vinegar and chili garlic sauce to a jar. Secure the lid (make sure it's tight!) and shake vigorously to ensure that everything is combined.
Add your sauce to the pan and toss so everything is covered. Cook, stirring regularly, for 5-6 minutes or until the cabbage is tender. Top with green onions, sesame seeds, crushed peanuts or red pepper flakes and serve!
What to serve with Egg Roll in a Bowl?
Honestly, this is a true one pan meal because no sides are necessary. The meat and vegetables provide a well balanced meal all on its own. However, if you want to add a little something extra you could do these delicious Sesame Green Beans.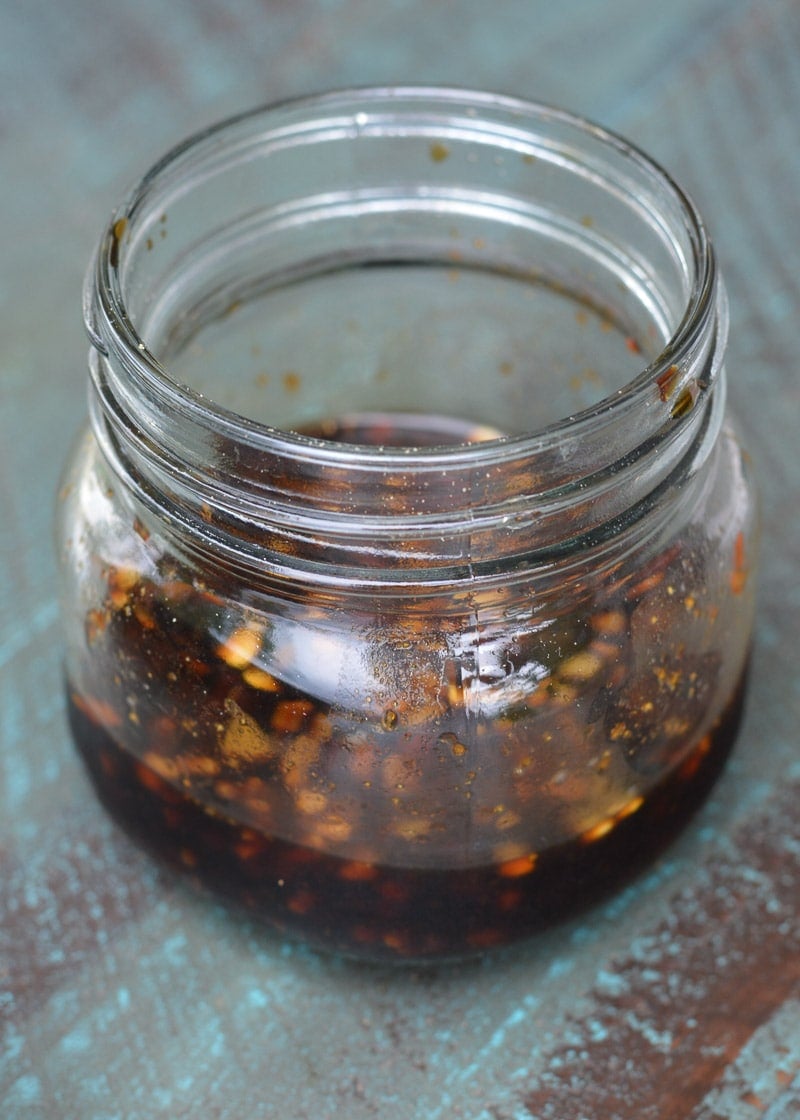 Tips and Tricks for the Best Egg Roll in a Bowl Recipe
If you like heat in your food, try a spiced pork or add some red chili flakes to your sauce
Be sure that all of your ingredients in the sauce are fully blended together
After adding your sauce, toss everything well so that all of the meat and veggies are covered
Make sure to cook everything long enough that your veggies aren't too raw–You want everything to be tender
Add toppings! Green onions, crushed peanuts, sesame seeds, fresh ground pepper or red pepper are all great options to add a burst of flavor and a great combination of textures.
How many carbs are in this recipe?
A generous serving of this dish is only 6.6 net carbs! One single small egg roll from Panda Express has about 14 net carbs, so this dish easily fills you up for less than half the carbs!