These Pumpkin Cheesecake Truffles are the perfect quick and easy keto snack! Each bite is full of pumpkin and dark chocolate and they're only 2 net carbs each!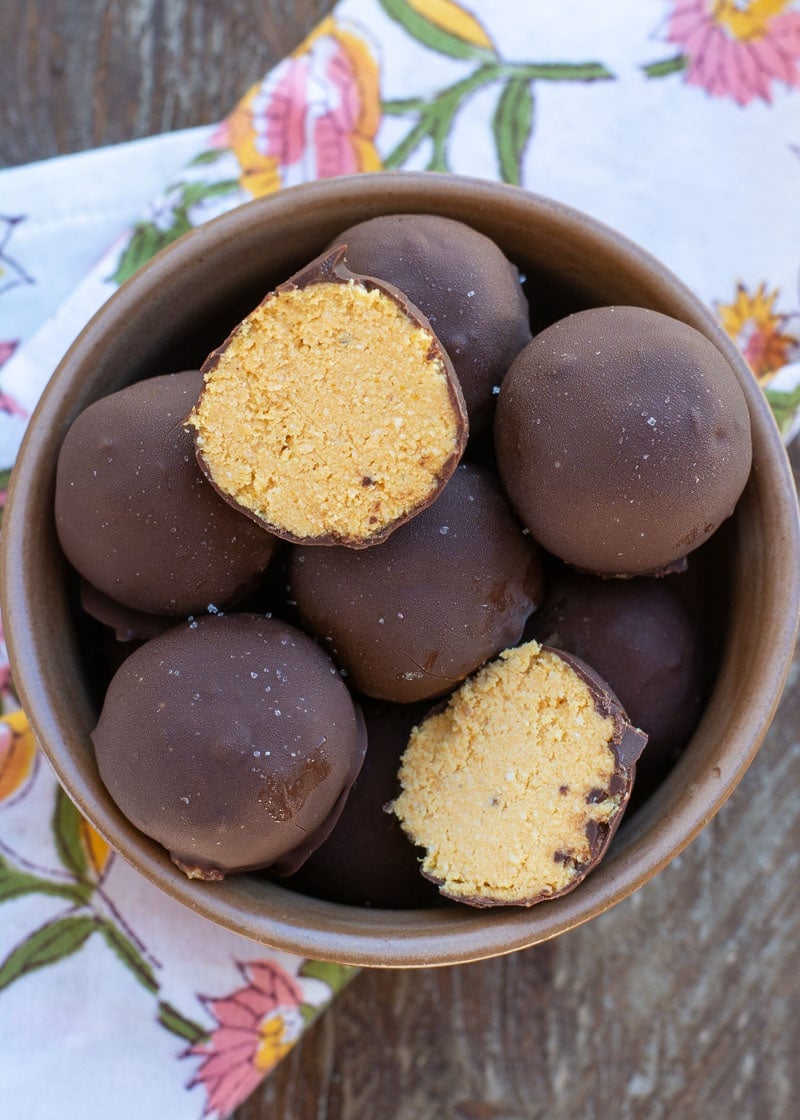 Pumpkin Cheesecake Truffles
You are going to be obsessed with these Pumpkin Cheesecake Truffles! These keto truffles are so easy, quick and so, so good. You're going to blend a no bake cheesecake mixture and freeze. You'll then dip your frozen cheesecake into a sugar free dark chocolate to make the perfect truffle! I love the pumpkin flavor and who doesn't love dark chocolate? Fall is the perfect time to make this incredibly indulgent keto snack!
One of the best things about these Pumpkin Cheesecake Truffles is that they're low carb and keto. You can enjoy one of these delicious keto sweets for only 2 net carbs! These truffles are a great option for a keto diet because they are very low in carbs while delivering a healthy dose of fat. You can pack these in your lunch, enjoy as an after dinner treat or bring to your next brunch, bridal shower or baby shower- everyone is going to gobble these right up! For more fun fall recipes, check out this list of 20+ Easy Fall Desserts!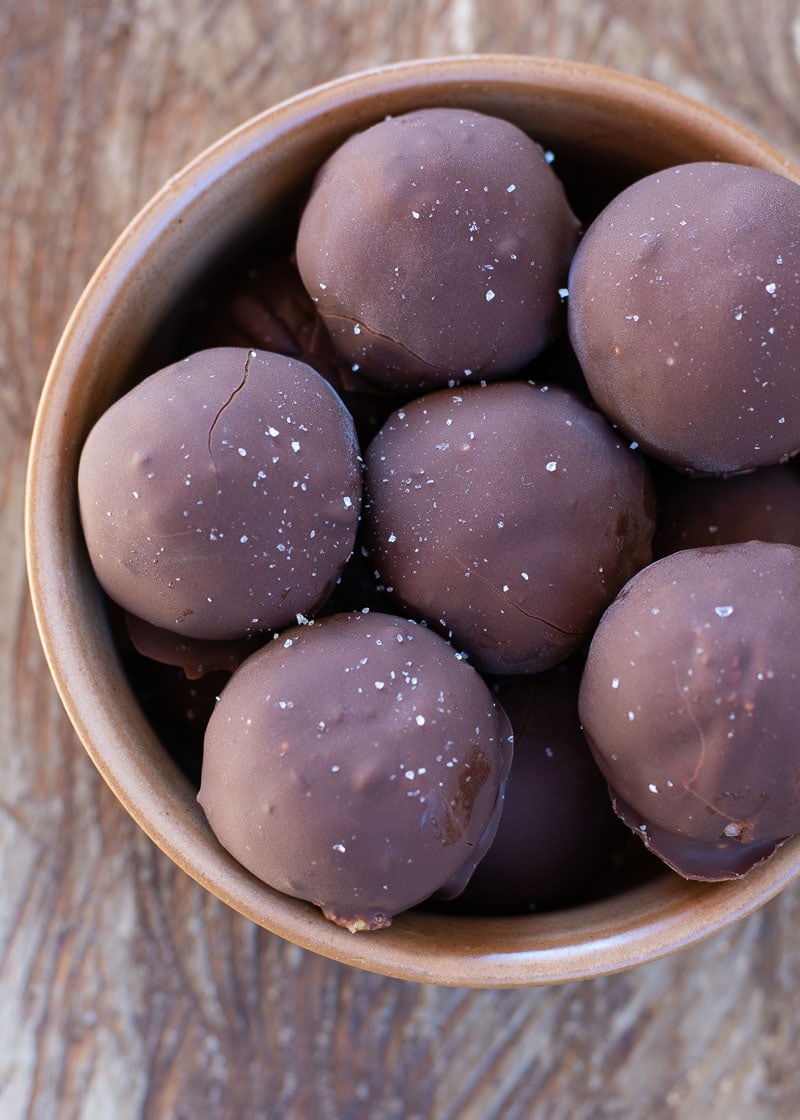 What is a chocolate truffle?
A chocolate truffle does not contain a traditional fungi truffle (for the most part- we aren't quite that fancy here!), but they do look similar to a traditional truffle, which is where they got the name. A chocolate truffle is simply tempered chocolate covered with a chocolate ganache. There are many variations that can be made on this classic dessert, which is what I've done here!
Ingredients in Dark Chocolate Truffles
As always, here is a quick overview of the ingredients used in our keto truffles. For the complete recipe, just scroll to the bottom of the page.
How do I make these Pumpkin keto fat bombs?
These easy pumpkin truffles are ready in only 4 simple steps!
Using a mixer, blend together the cream cheese, pumpkin, monkfruit, coconut flour, vanilla and pumpkin pie spice.
Scoop out and roll into a ball. Set on wax paper and place in the freezer.
While the truffles are freezing, heat the coconut oil in a double broiler (or in a microwave safe bowl). Add the chocolate chips and stir until smooth and melted.
Carefully dip the truffles into the chocolate using two forks. Top with sea salt or more pumpkin pie spice. Freeze for 10 more minutes before enjoying.
Can I use a different type of flour for Chocolate Truffles?
I don't recommend it. Coconut flour really soaks up moisture, and the pumpkin puree provides a large amount, so you're going to want the flour to absorb all of that excess moisture for the best result.
How to melt chocolate chips for pumpkin cheesecake
There are two ways that you can melt chocolate chips- either in a double broiler on the stove top or in the microwave. If you're using a double broiler, you're going to add water to the bottom pan until it boils. Once it's boiling, reduce to a simmer. Add your chocolate chips to the second pan and stir slowly, allowing the chocolate to slowly melt. If you're melting in the microwave, add to a microwave safe bowl and heat for 30 seconds. Stir and heat for 30 more seconds. Repeat until your chocolate is completely melted.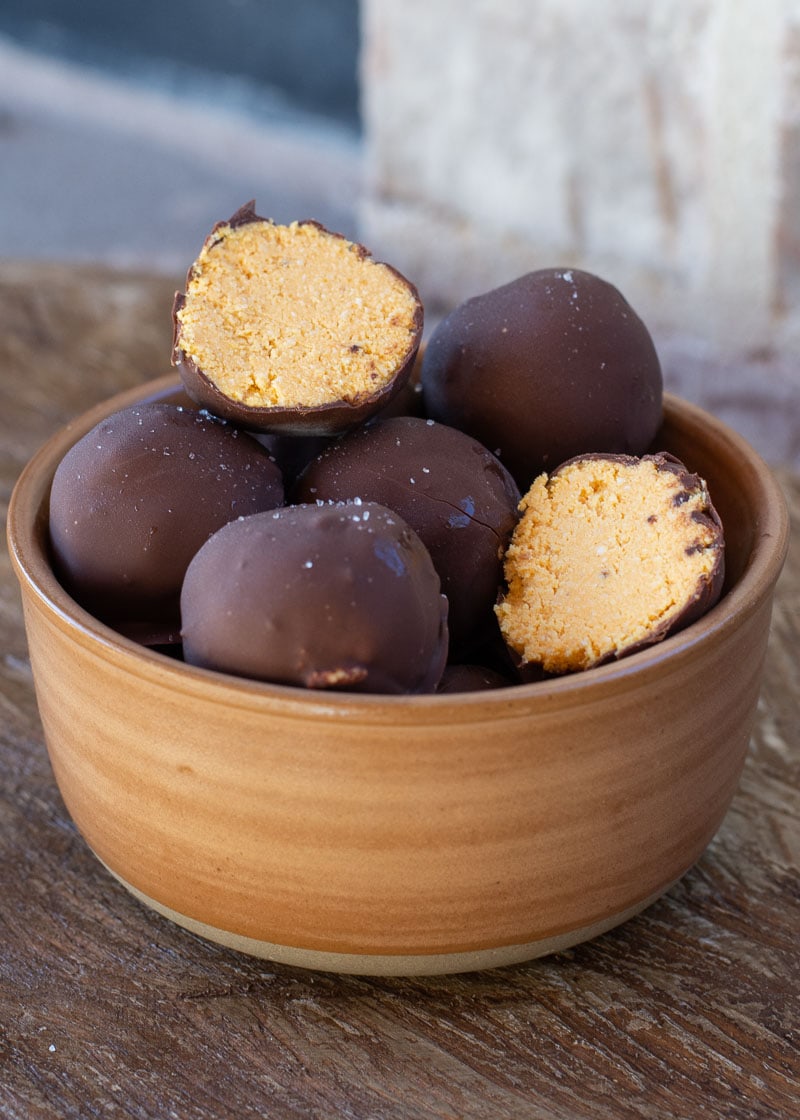 How to Store this No Bake Pumpkin Cheesecake
To store these Pumpkin Truffles, keep in a plastic or glass container with an airtight lid. These truffles will stay fresh in the fridge for up to four days. You can also freeze these truffles- they will keep fresh for up to 3 months in the freezer.