This Cilantro Lime Shrimp and Cauliflower Rice is low calorie, low carb, keto-friendly and packed with flavor! This is a 20 minute meal your entire family will love!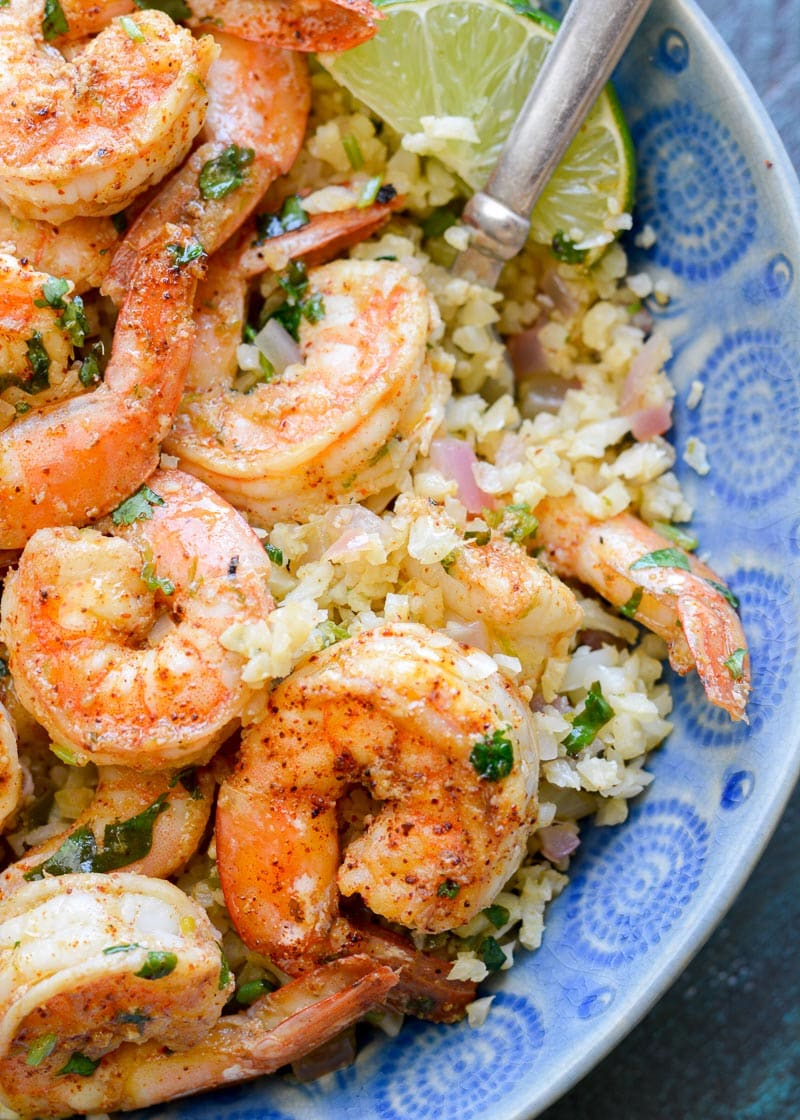 Okay friends, this recipe comes to you by popular demand! Recently on Instagram, I asked readers what food they wanted to see recreated in a low carb, keto-friendly option. An overwhelming request was for GOOD low carb Mexican style food. You guys are missing your rice, tortillas, and tacos! I understand completely!
This Cilantro Lime Shrimp and Cauliflower Rice is a breeze to make. It is loaded with flavor, and I really think it will help to satisfy your Mexican food cravings! This recipe does include both separate recipes: the Cilantro Lime Shrimp, as well as Cilantro Lime Cauliflower Rice. You can make these together or separately. We love this Cilantro Lime Cauliflower Rice in bowl topped with taco meat, cheese, and guacamole! It is a delicious keto meal!
Ingredients for Cilantro Lime Shrimp and Rice
As always, you will find the complete recipe below, just keep scrolling. This is a quick overview of the ingredients you will need for this recipe:
Olive oil: you can substitute avocado oil if you prefer
Butter
Garlic
Limes: you will need two full limes to make both the rice and the shrimp. I also suggest at least one additional for squeezing over your bowl before serving.
Cilantro
Spices: chili powder, cumin, salt and pepper
Shrimp: for ease of use, I prefer to purchase shrimp where the shells have already been removed.
Frozen Cauliflower Rice: I suggest frozen cauliflower rice over fresh for the best taste and texture.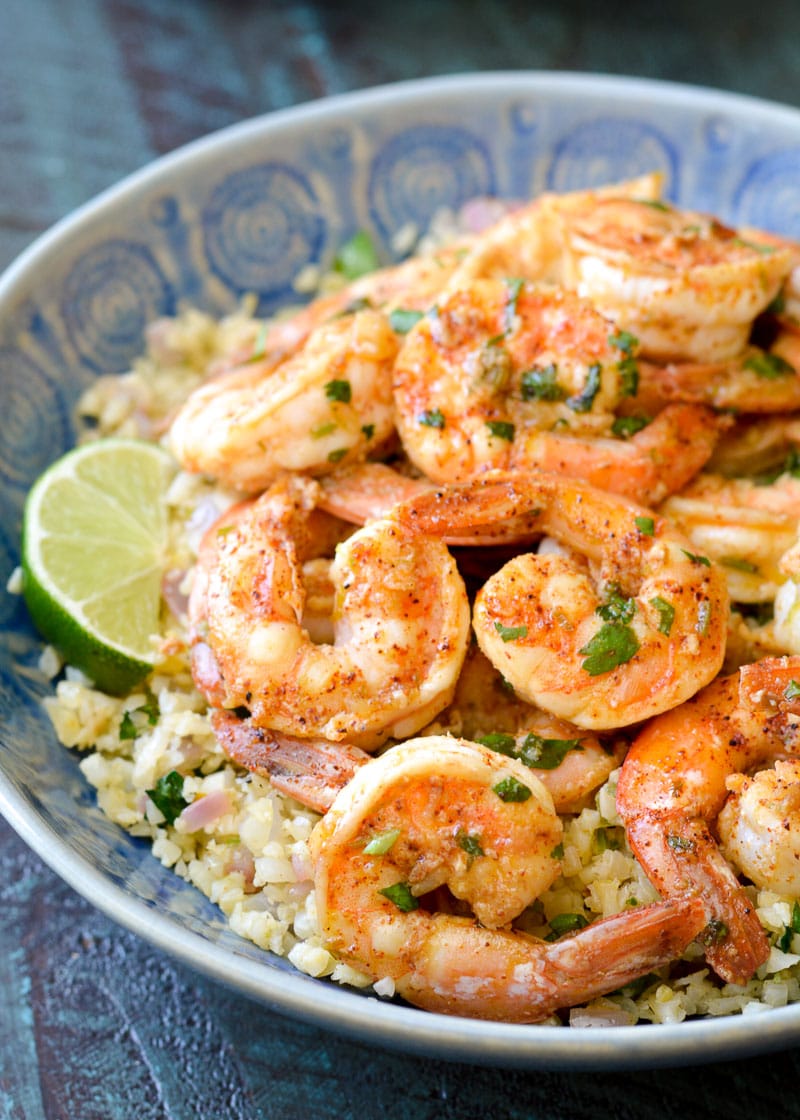 Tips and Tricks for the Best Cauliflower Rice
Use Frozen Cauliflower Rice: for the best results, I recommend using frozen cauliflower rice. The standard size is 10 ounces for the frozen packages, which should serve 4. You can easily use two bags if you wish and double the recipe.
Watch the Steam: you will notice a lot of steam comes off the frozen rice as it cooks. As long as steam is still escaping there is still moisture in the rice, and it will be soggy. You want to pay close attention; when the steam has dissipated, the rice is done!
Turn up the Heat: in the final minute or two of cooking, turn the heat up to really be sure you get all the moisture out. This results in fluffy, perfect cauliflower rice!
Season to Taste: cauliflower rice needs a good dose of salt and pepper. Liberally season the rice to your liking.


How much is a serving size?
This recipe serves four. The cauliflower rice reduces as it cooks, so the serving size is roughly 3/4 cup each. You can enjoy 3/4 cup of Keto Cilantro Lime Rice and 1/4 pound of the Cilantro Lime Shrimp in garlic butter sauce for just 6 net carbs!
Other Keto Mexican Recipes
This Easy Keto Taco Casserole is one of my favorites. This is a one pan casserole that is loaded with taco meat, vegetables and cheese for about 6 net carbs a serving! It is also great for meal prep, because it reheats and freezes well! Some of my other favorites are: