Serve: This casserole shouldn't be left out at room temperature for longer than 2 hours.
Store: Make sure to store leftovers in an airtight container and store in the refrigerator for up to 4 days.
Freeze: Once your casserole has completely cooled, wrap tightly in foil or place in a freezer safe storage container or bag and keep in the freezer for up to 3 months. Allow it to thaw in the refrigerator overnight before placing it in the oven to reheat.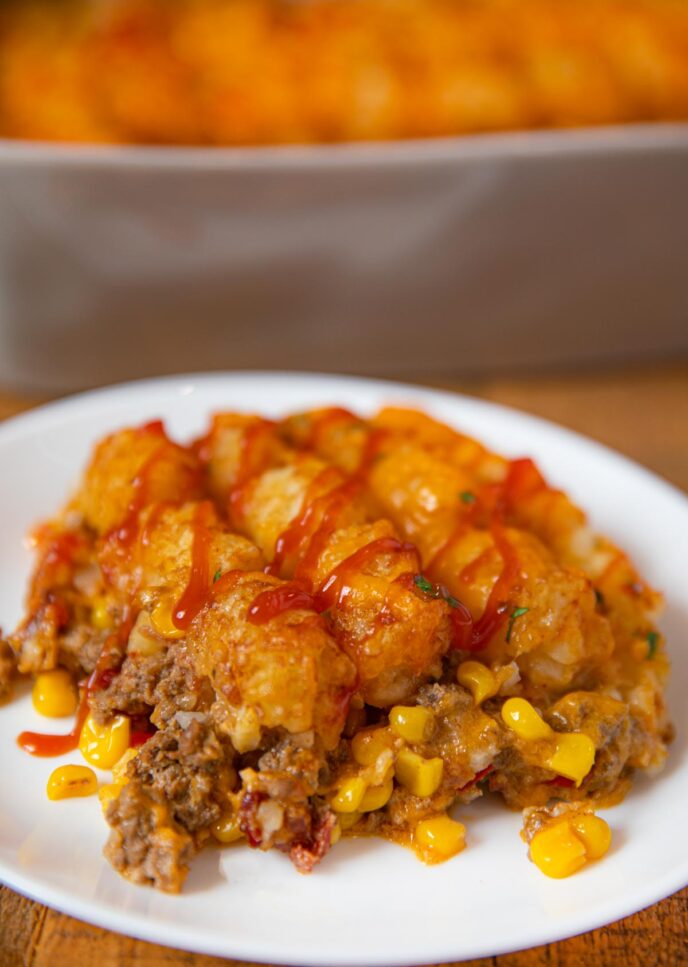 Cowboy Casserole
Cowboy Casserole is an easy weeknight family dinner with ground beef, corn, cheddar cheese and sour cream topped with crispy tater tots.
Yield8 servings
Prep Time10 minutes
Cook Time40 minutes
Total Time50 minutes
CourseDinner
CuisineAmerican
Ingredients
▢1/2 pound ground beef , (85/15)
▢1 cup corn
▢2/3 cup Condensed Cream of Mushroom Soup
▢1 cup cheddar cheese , shredded and divided
▢1/3 cup whole milk
▢1/4 cup sour cream
▢1 teaspoon onion powder
▢1/2 teaspoon black pepper
▢½ cup bacon , cooked and crumbled
▢32 ounces tater tots
Instructions
Preheat oven to 375 degrees.
In a large skillet, cook beef over medium heat until browned.
Add the corn, cream of mushroom soup, ½ cup cheese, milk, sour cream, onion powder, black pepper, and bacon to the skillet and mix well.
In a 9×13 pan layer the beef, then the cheese and finally line up the tater tots before baking for 40-45 minutes uncovered.
Sprinkle with remaining cheese and bake another 5 minutes.
Nutrition
Calories: 148kcal | Carbohydrates: 10g | Protein: 10g | Fat: 8g | Saturated Fat: 3g | Cholesterol: 28mg | Sodium: 355mg | Potassium: 231mg | Fiber: 1g | Sugar: 1g | Vitamin A: 109IU | Vitamin C: 2mg | Calcium: 73mg | Iron: 1mg