Add canned pineapple tidbits. Again, drain the juices very well before adding them to the mixture.
Swap the canned mandarin oranges for canned peach tidbits. Drain well.
Add a smattering of drained and chopped maraschino cherries to the salad, or just garnish the top of the salad with them.
Replace the whipped topping with plain or vanilla-flavored yogurt. The texture won't be as light and fluffy, but it will add a nice tanginess to the sweet salad ingredients.
Don't like coconut? Leave it out. Love it? Consider toasting it (and cooling it) before adding it to the mix.
Add chopped pecans or walnuts to the mix.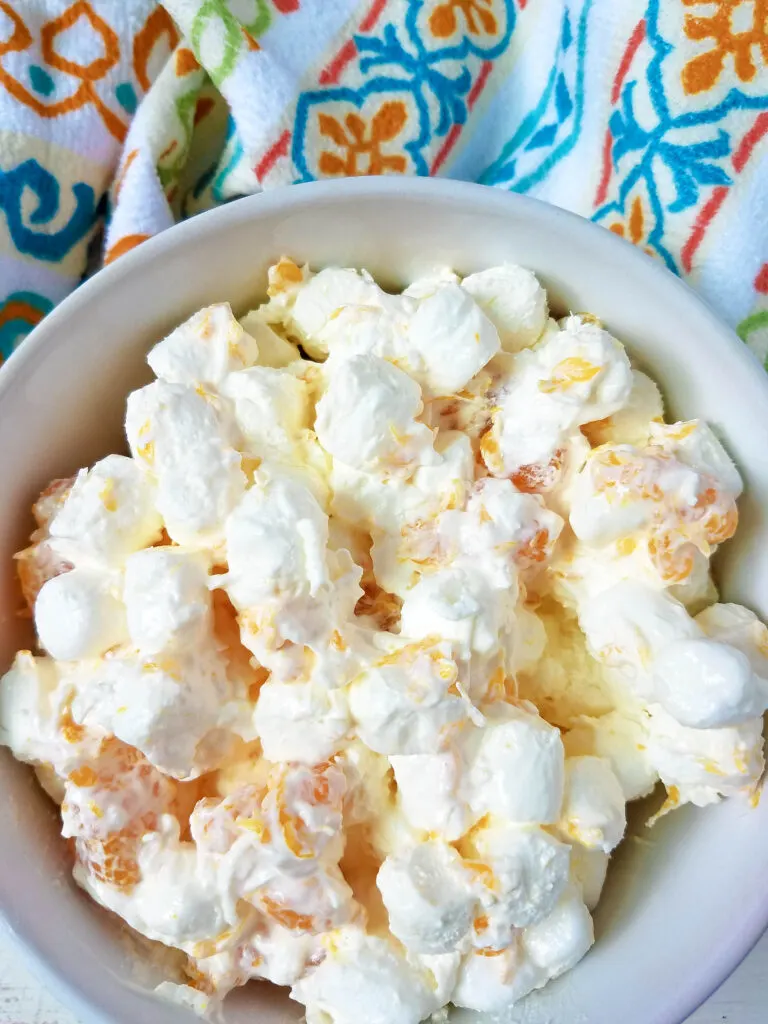 Serving Suggestions
To make this into a more elegant dessert option, you can serve this mandarin marshmallow fluff in individual parfait dishes or cups. Keep well chilled until ready to serve.
You can easily make it into a parfait by layering it in sections separated by any of the following:
crushed graham crackers
chopped nuts
drained crushed pineapple tidbits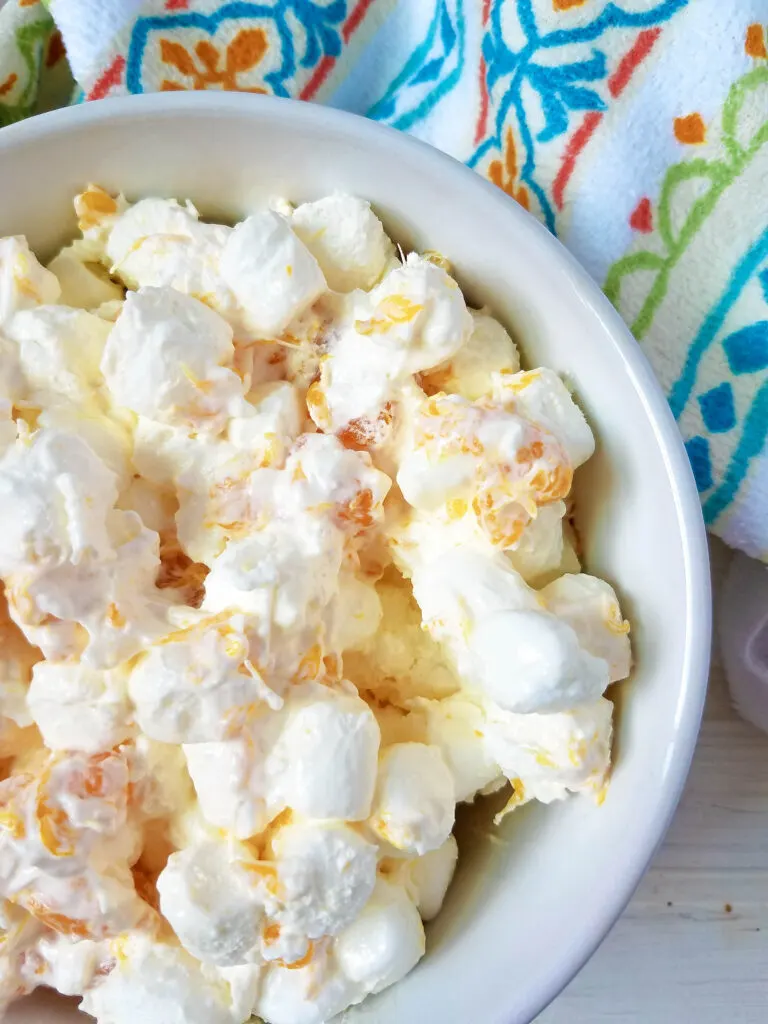 Can I Make This Fluff Salad Ahead?
Yes, and you should! I like to make it ahead to give it at least 4 hours in the fridge before serving. That way it's well-chilled and firm enough to hold up. You can make it the night before, as well. If you do, be sure that the mandarin oranges are very well drained before you mix them since the longer it sits, the more excess juices can escape.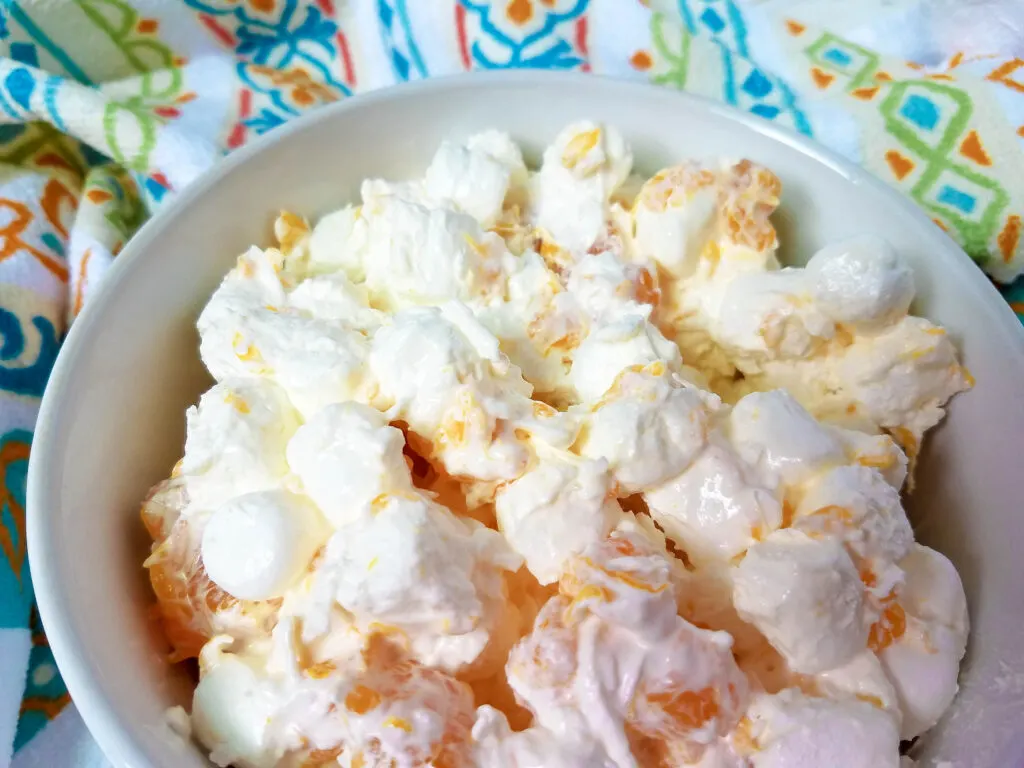 Storage
Store this salad, tightly covered, in the refrigerator for up to two days.
Mandarin Marshmallow Fluff
prep time: 10 MINUTES
total time: 10 MINUTES
Sweet, light, fruity, and easy are the hallmarks of this Mandarin Marshmallow Fluff no-bake dessert. Perfect for potlucks, BBQs, and holiday events, this easy dessert salad recipe is always a crowd-pleaser.
Ingredients
2 – 15 ounce cans of Mandarin Orange slices
8 ounces mini marshmallows
½ cup flaked coconut
1 – 8oz tub whipped topping
Instructions
Gather all of the ingredients.ingredients mandarin marshmallow fluff
Open mandarin cans and drain the juices.Mandarin Marshmallow Fluff
In a large bowl, combine marshmallows, flaked coconut, whipped topping, and mandarin oranges.Mandarin Marshmallow Fluff
Stir well and chill for at least 2-3 hours before serving.Mandarin Marshmallow Fluff
Notes
Try these other variations:
add in chopped walnuts or pecans for an added crunch
add in maraschino cherries
add a can of drained fruit cocktail
add dried cranberries and a dash of cinnamon
stir in 2 Tablespoons of instant lemon pudding powder for a lemon-taste
use pina colada flavored yogurt
top with corn flakes for an added crunch
add diced apples (if you don't like coconut, apples are a great alternative because of the crunch)
add grapes (red or green) halved
add diced bananas
add some marshmallow creme in with some sour cream