Sour cream beef noodle casserole is a dependable family favorite. With egg noodles in a rich beefy tomato sauce and cheesy sour cream layers.
A good casserole is a great answer to end-of-the-year weeknight meals. It's comforting and serves up a big batch of food for no-fuss dinners. There's usually a lot of leftovers too so you can relax the next day. If you have hamburger or ground beef in your freezer to use up, try this kid-friendly sour cream beef noodle casserole.
This old-fashioned meal is a deliciously simple combination of beef, pasta, tomato sauce and cheese to serve up a warm and bubbly meal. "Comfort" is the word that comes to mind when we think about digging into this casserole.
It's a little twist on your traditional tomato and beef noodle casserole. We're stacking a few layers of egg noodles mixed with sour cream, cottage cheese and Parmesan cheese between layers of ground beef in a rich and rustic tomato sauce and generous layers of cheddar cheese for a creamy melt. For more comforting beef recipes, try this or a classic recipe.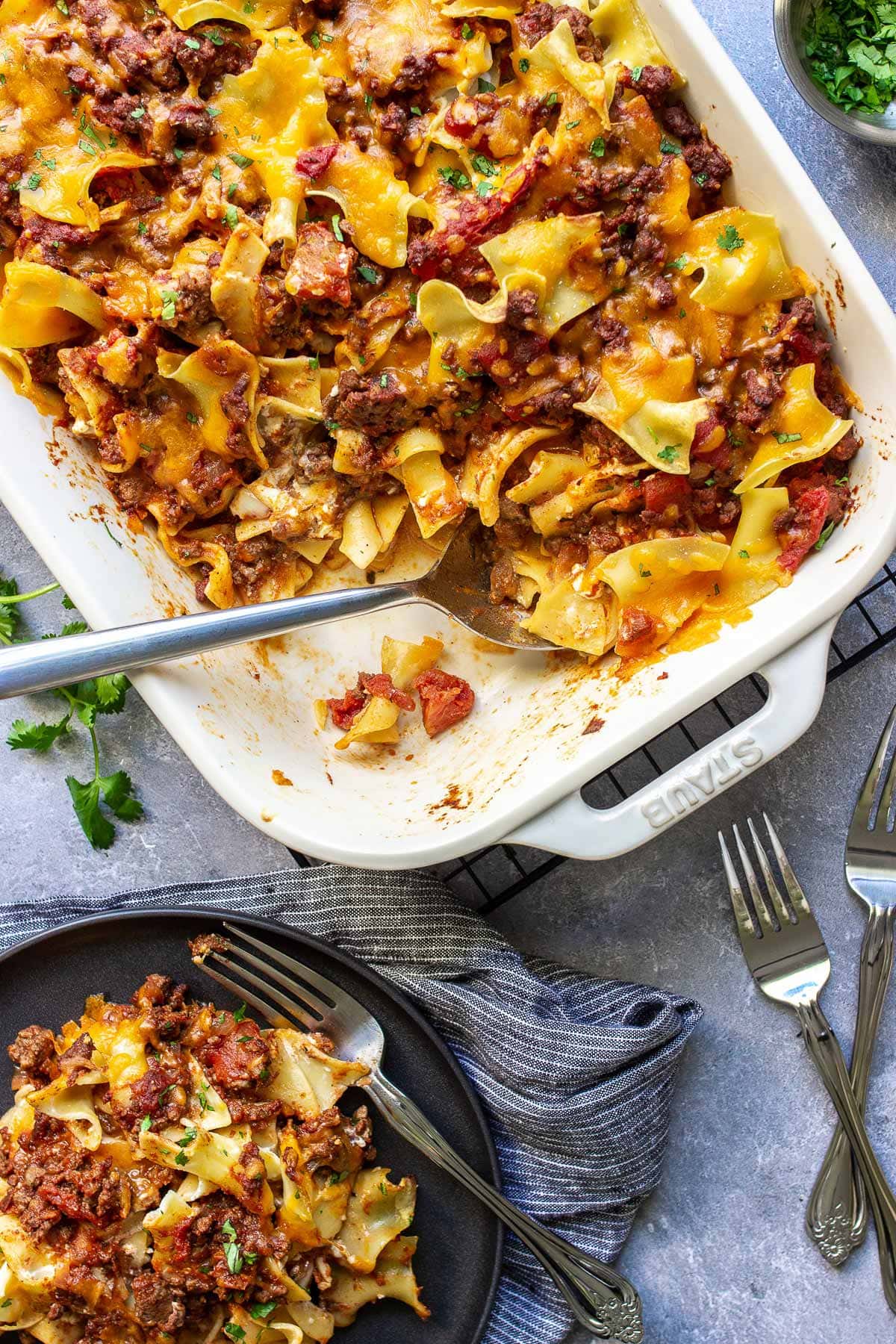 SOUR CREAM BEEF NOODLE CASSEROLE RECIPE TIPS
Onions and garlic – You can substitute fresh onions and garlic with onion and garlic powder. I would start with 1/2 teaspoon first and build up from there for more flavor.
Ground beef – If you use extra lean ground beef, you won't need to drain as much grease.
Pasta – I used wide egg noodles but you could also use regular egg noodles or pasta like elbow macaroni or shells. To prevent soggy noodles in the casserole, we rinse the cooked noodles under cold water to stop the cooking process.
For that reason, I like to cook the noodles a little under al dente. So if the package directions suggest cooking it for 9-12 minutes, I'll pick 9 minutes and finish off the cooking in the oven.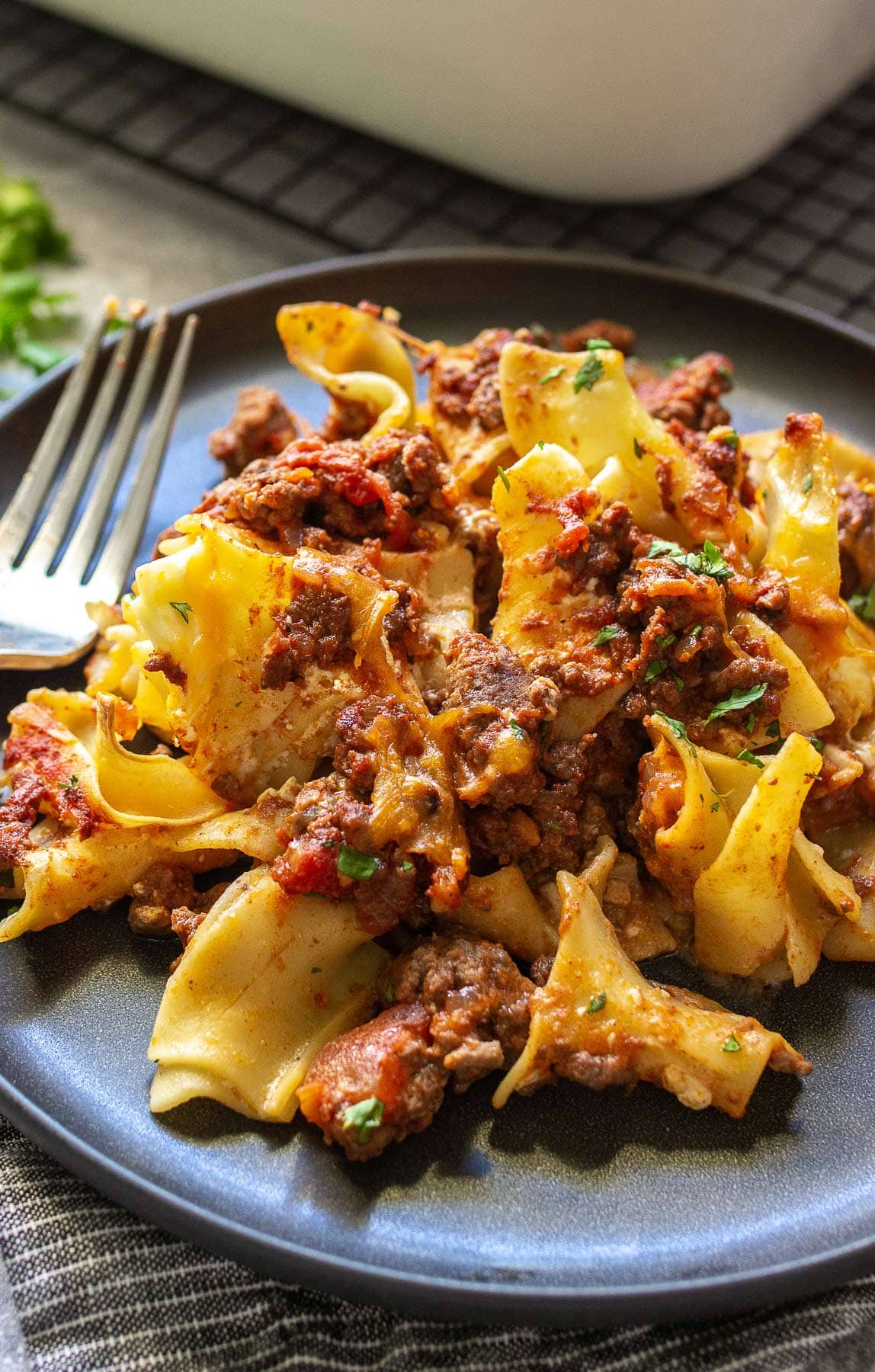 Seasonings – I added smoked paprika to give the meat layer a rustic, smoky flavor and some Worcestershire sauce to balance out the tartness from the tomatoes.
Switch out cottage cheese – If you're not a fan of cottage cheese, you can substitute it with ricotta or cream cheese. Cottage cheese is soft and creamy and isn't as sour as you might think. For this recipe, I used small curd cottage cheese with 4% milkfat.
Cheddar cheese – I used extra sharp cheddar but you can use mild cheddar, triple cheddar, Monterey Jack, Colby, or Pepper Jack.
Green onions – Some versions use green onions mixed in with the sour cream egg noodles layer. If you're a fan of green onions, try this out! It's about 1/2 cup of chopped green onions mixed into the sour cream noodles.
Mixing it up – I made three layers to give three distinct flavors when digging in but you can mix all the layers together and bake it that way for easier assembly.
Make it in advance – You should be able to make this in advance, cover and refrigerate it. Try adding in an extra 10-15 minutes of baking time since you're starting with a chilled casserole.
Sour Cream Beef Noodle Casserole
Sour cream beef noodle casserole is a dependable family favorite. With egg noodles in a rich beefy tomato sauce and cheesy sour cream layers.
INGREDIENTS
12 oz. uncooked egg noodles
1 lb. ground beef
1 yellow onion, finely chopped
2 medium cloves garlic, minced
1 can (15 oz.) tomato sauce
1 can (15 oz.) diced tomatoes, drained
1 tablespoon Worcestershire sauce
2 teaspoons smoked paprika
Red pepper flakes to taste
Salt and pepper to taste
8 oz. sour cream
8 oz. small curd cottage cheese
1/2 cup Parmesan cheese, shredded
2 cups cheddar cheese, shredded
Fresh parsley to garnish
INSTRUCTIONS
Bring a pot of salted water to a boil and cook the egg noodles according to package directions until al dente. Rinse in cold water to stop the cooking process. Add a splash of olive oil to prevent the noodles from sticking.
Meanwhile, brown the ground beef in a skillet, breaking up any clumps. Drain any excess fat.
Add chopped onion and garlic to the skillet and sauté until fragrant, about 3 minutes.
Pour in tomato sauce and diced tomatoes. Season with Worcestershire sauce, smoked paprika, red pepper flakes and salt and pepper to taste and simmer until sauce has thickened, about 5 minutes.
In a combine sour cream, cottage cheese, Parmesan cheese and cooked egg noodles. Mix well.
Spoon half the creamy pasta mixture into a .
Top with half the beef mixture and half the cheddar cheese.
Repeat with one more pasta – beef – cheddar layer each. Finish with a cheddar cheese layer on top.
Bake uncovered at 350°F for 25-30 minutes or until cheese has melted.
Top with optional parsley and dish and serve hot.
Enjoy!
NOTES
Add more heat – Add more kick with some jalapeños or cayenne pepper.
Add more flavor – Throw in some bacon bits in there for more flavor.
Scroll up to RECIPE TIPS for more useful tips, suggestions and ingredient substitutions.
Prep Time: 10 mins
Cook Time: 40 mins