Cowboy Cookies, aka Ranger Cookies, are a hearty yet soft and chewy oatmeal cookies with some nutty crunch, ooey-gooey chocolate chips, flakes of coconut, and fully loaded with flavor!
Ingredients
½ cup butter softened, 1 stick
1 cup brown sugar
1 large egg
1 teaspoon vanilla extract
1 ¼ cups old fashioned oats
¾ cup all-purpose flour
½ teaspoon baking soda
½ cup chocolate chips
½ cup shredded coconut
½ cup chopped pecans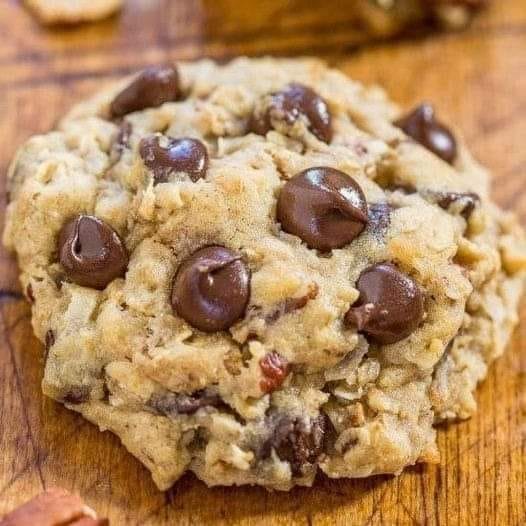 Instructions
Preheat oven to 350° F and line baking sheets with parchment paper.
In a large mixing bowl, add the softened butter and brown sugar and beat on medium speed for 2 minutes . You can also use the bowl of a stand mixer.
Add the egg and vanilla extract and beat until blended in. (scrape down the side if necessary)
Then add in the oats, flour, and baking soda and mix until just barely combined , being careful not to over-mix.
Next, add the chocolate chips, shredded coconut, and chopped pecans and gently stir them into the dough.
Using a cookie scoop or spoon, scoop out 1 ½ tablespoons of dough and place it on the baking sheets 2 inches apart.
Bake for 12-14 minutes or until the edges start to brown.
Allow the cookies to cool completely on the pan before storing them in an airtight container.
Notes
Store at room temperature for up to 4-5 days.
Use quick oats instead of old-fashioned oats if desired.
Use gluten free one-on-one flour like Bob's Red Mill if needed.
Use semi-sweet chocolate chips, dark chocolate chocolate chips or milk chocolate chips.
Substitute walnut for pecans.
Add ½ cup of mini M&Ms or Reese's Pieces if desired.