This Cheesy Jalapeño Keto Chicken is the perfect easy dinner with just 5 net carbs! This recipe is perfect for busy nights and easy keto meal prep!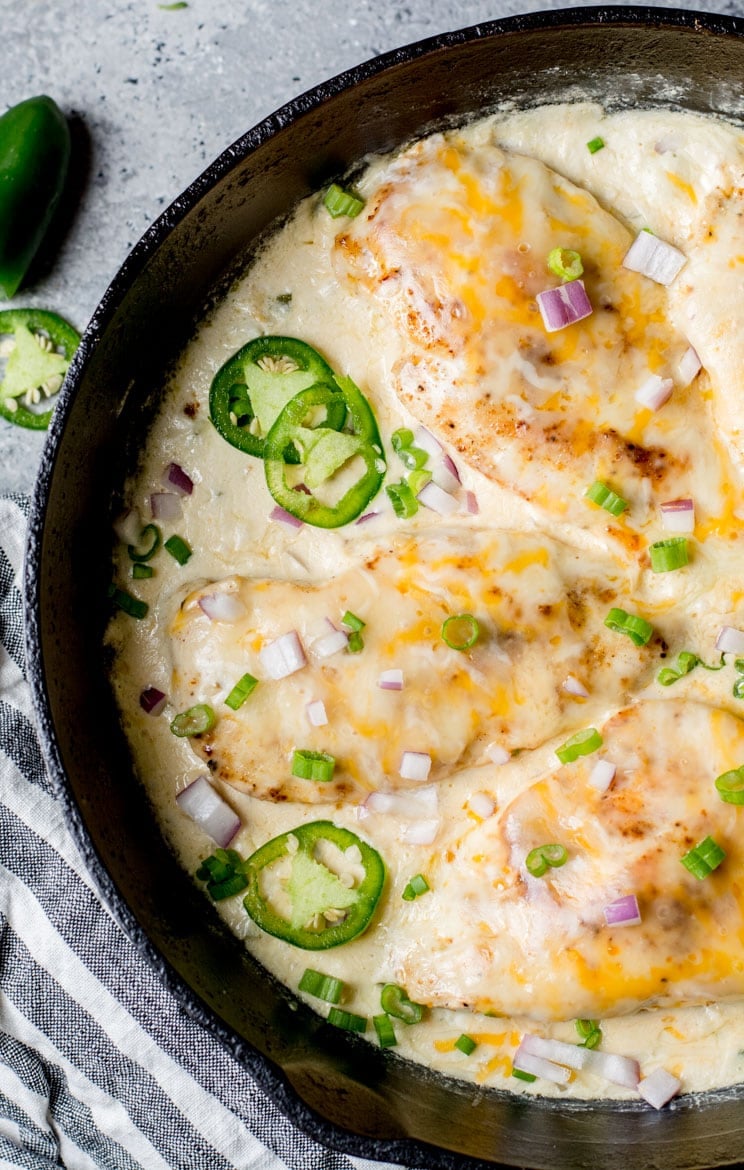 One pan dinners are the best. I love them even more than slow cooker dinners! When I started Keto I was a little bummed because my "go to" easy one pan dinners were off limits. So, I decided to work on some easy, delicious one pan low carb, keto-friendly dinners for busy weeknights!
This One Pan Cheesy Jalapeño Keto Chicken Recipe is ready in under 30 minutes and loaded with flavor. It reheats perfectly so it is great for weekly keto meal prep or a freezer friendly dinner.
This would be perfect served over some cauliflower rice to keep things keto. However, if you aren't worried about carbs I would totally serve this with some warm tortilla chips or Mexican rice!
Ingredients in This Keto Chicken Dinner
The ingredients for this keto chicken are pretty basic, they are probably things you have on hand pretty often making it great for nights when you have no dinner inspiration. Chicken breast, spices, a bit of onion and jalapeño and a few other pantry staples to make a creamy sauce.
The exact ingredients can be found below in the printable recipe card, but here's a quick overview of what you'll need:
Chicken Breast – These should be boneless and skinless. Boneless, skinless thighs can also work, but they may cook faster because they are usually smaller.
Spices – I used cumin, chili powder, garlic powder, salt, and pepper.
Butter – I used unsalted and then added salt on my own. If you use salted butter, just taste before adding any extra salt.
Veggies – Onion, jalapenos, and garlic
Heavy cream – Helps make that creamy, luscious sauce and prevents it from breaking
Chicken broth – You can also use vegetable broth if that's better for you.
Cream cheese and Cheddar cheese – These turn the creamy sauce into a cheesy, creamy sauce! I used cheddar cheese, but pepper jack or other cheeses would work, too.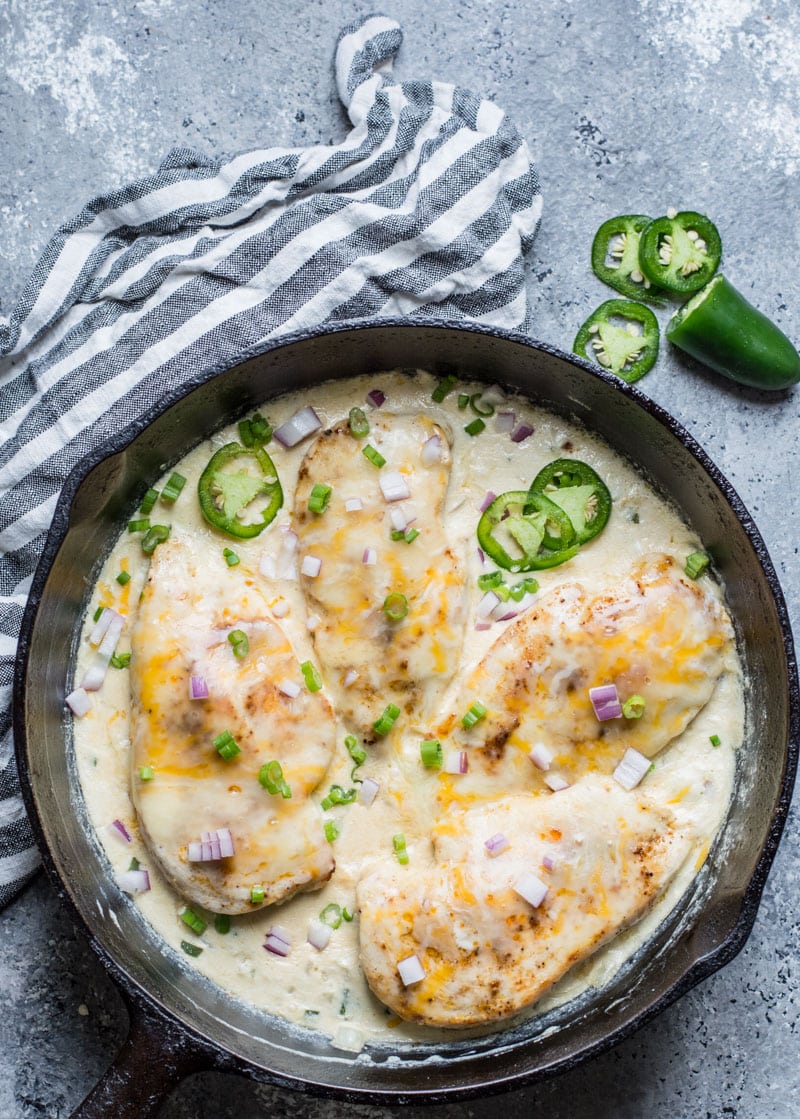 How to Make Cheesy Jalapeño Keto Chicken
This recipe is very easy, especially with this step-by-step guide. For exact measurements, keep scrolling down to the printable recipe card.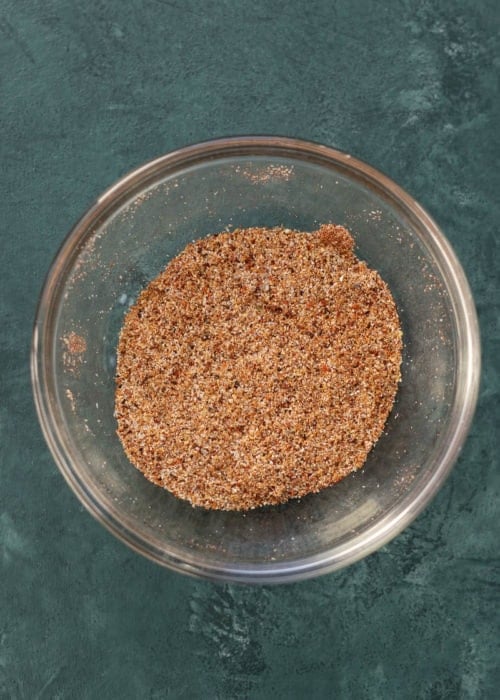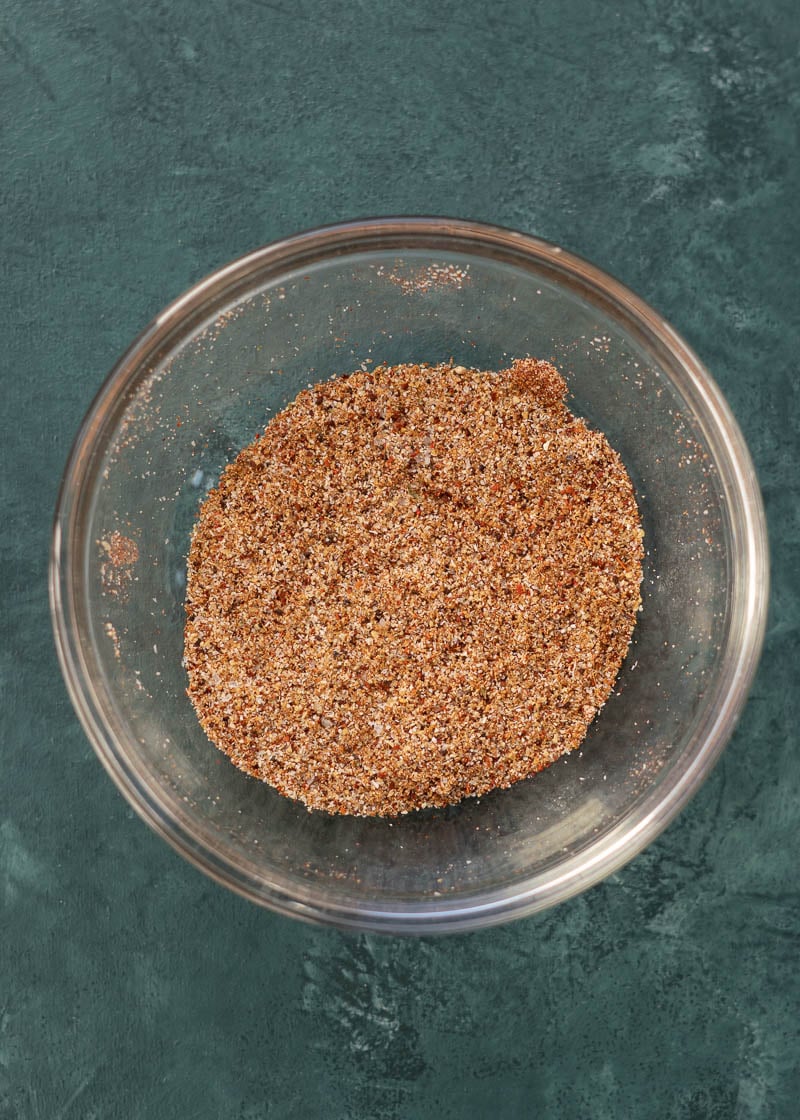 Season Chicken
Mix up the spices in a small bowl, then sprinkle each side of the chicken breasts until they're well covered. You will want to use small chicken breast for this recipe so they cook all the way through without burning on the outside. If you only have two large chicken breast place the breast on a cutting board and cut through the chicken, as if you are butterflying the chicken, but slice all the way through so you have two thinner breasts.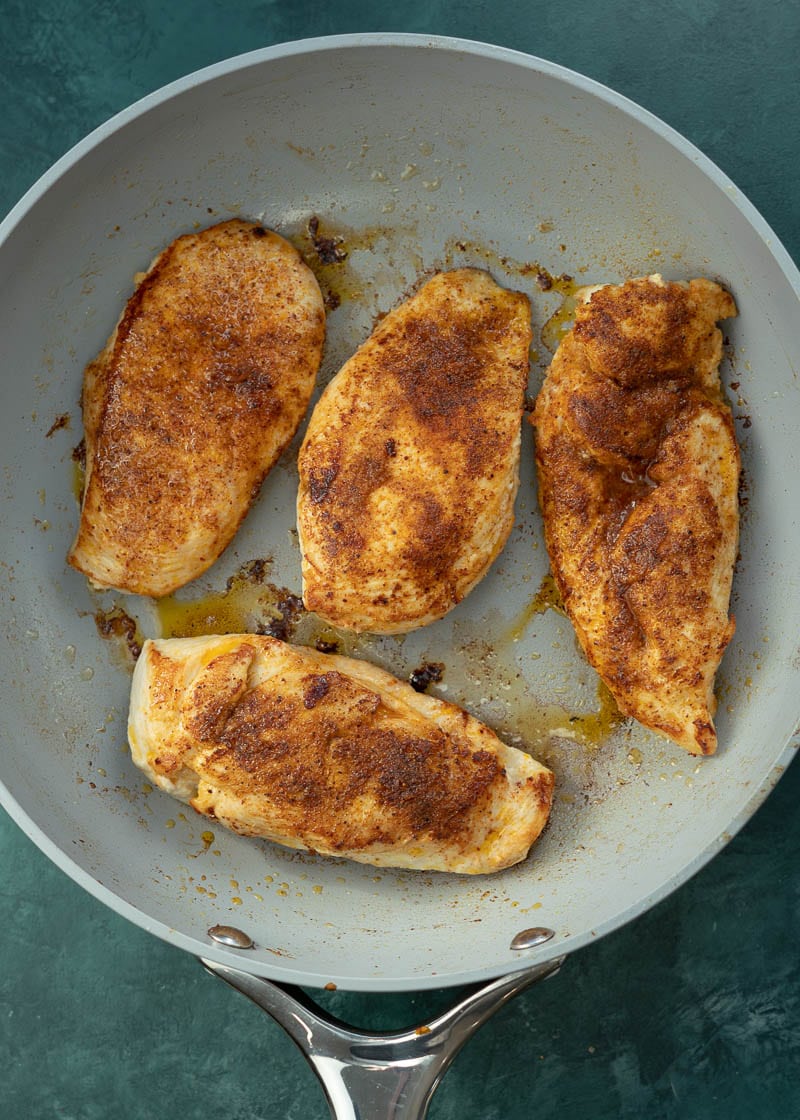 Sear Chicken
Heat a large skillet (12 inch) over medium heat. Grease the pan with nonstick spray or olive oil. Once the pan is ready and oil is hot, place the chicken breasts in the pan. You'll get more even cooking if none of the pieces are touching one another, but it'll still be great if you can't. Sear chicken 2-3 minutes on each side, then remove when nicely browned.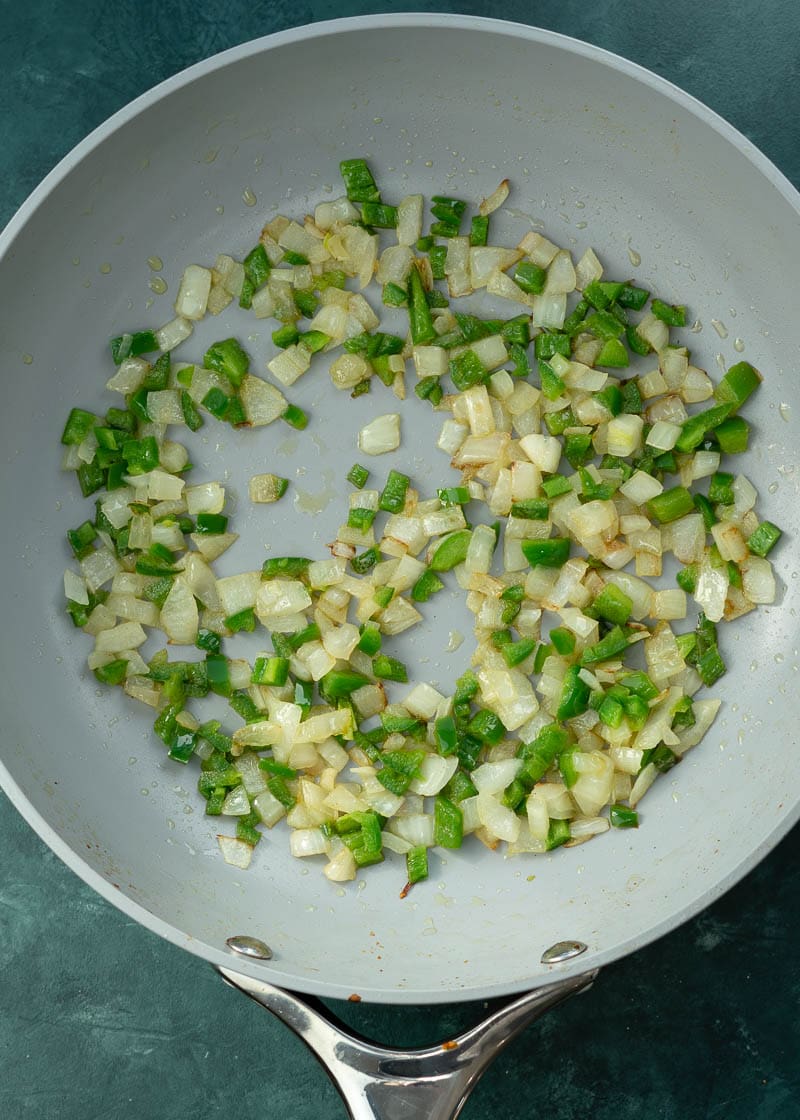 Sauté the Onion and Peppers
Melt the butter in the skillet, then add onion and jalapenos, then sauté for 3-4 minutes, stirring occasionally. About a minute or two before the veggies are finished, add your garlic and sauté until fragrant.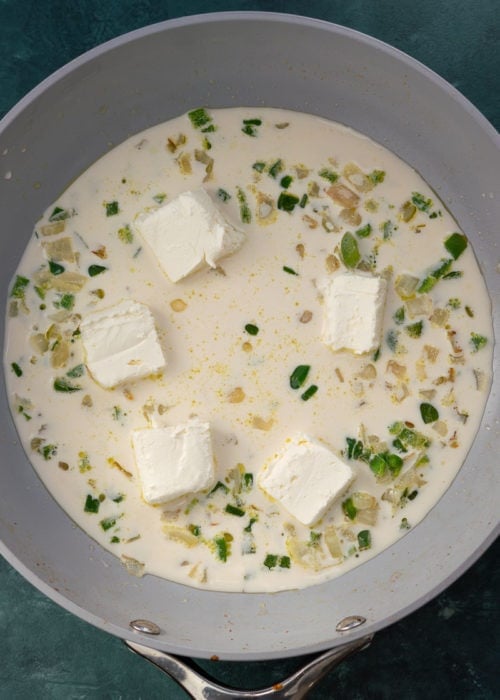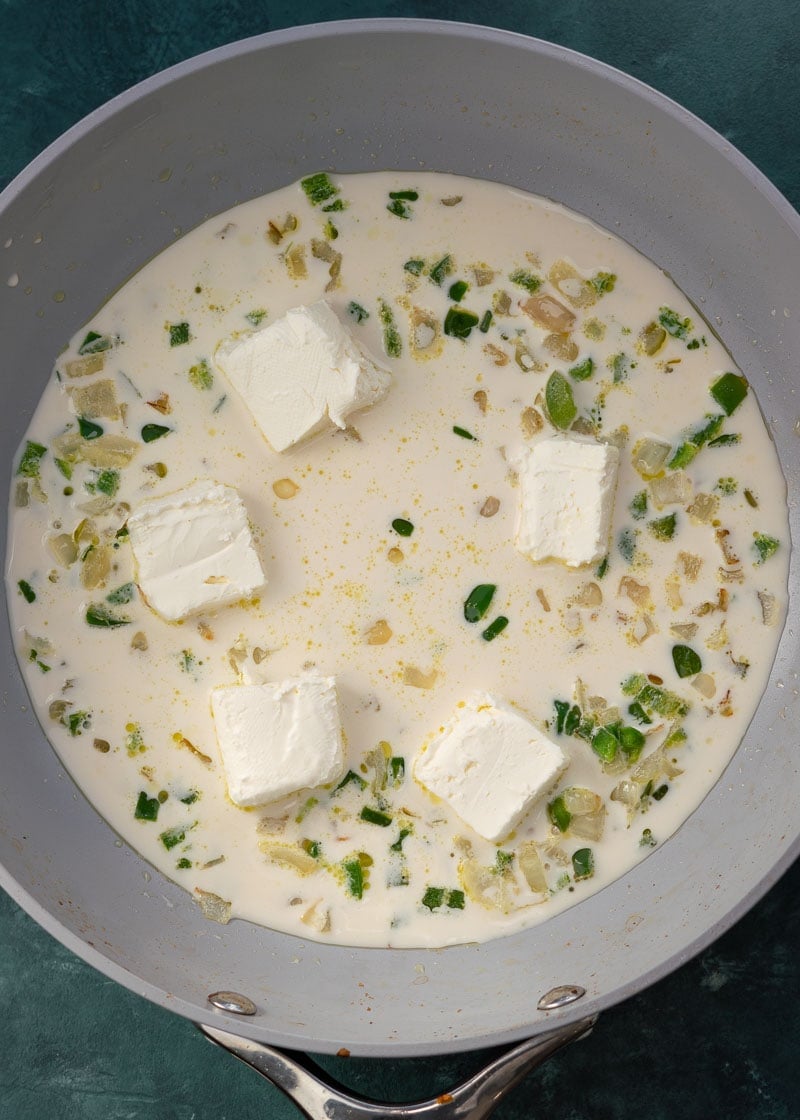 Make the Sauce
Add cream, broth, and cream cheese, then reduce heat to low. Stir until the cream cheese is completely melted, then add 1/2 cup of the shredded cheese. Stir well to help the cheese melt smoothly into the sauce.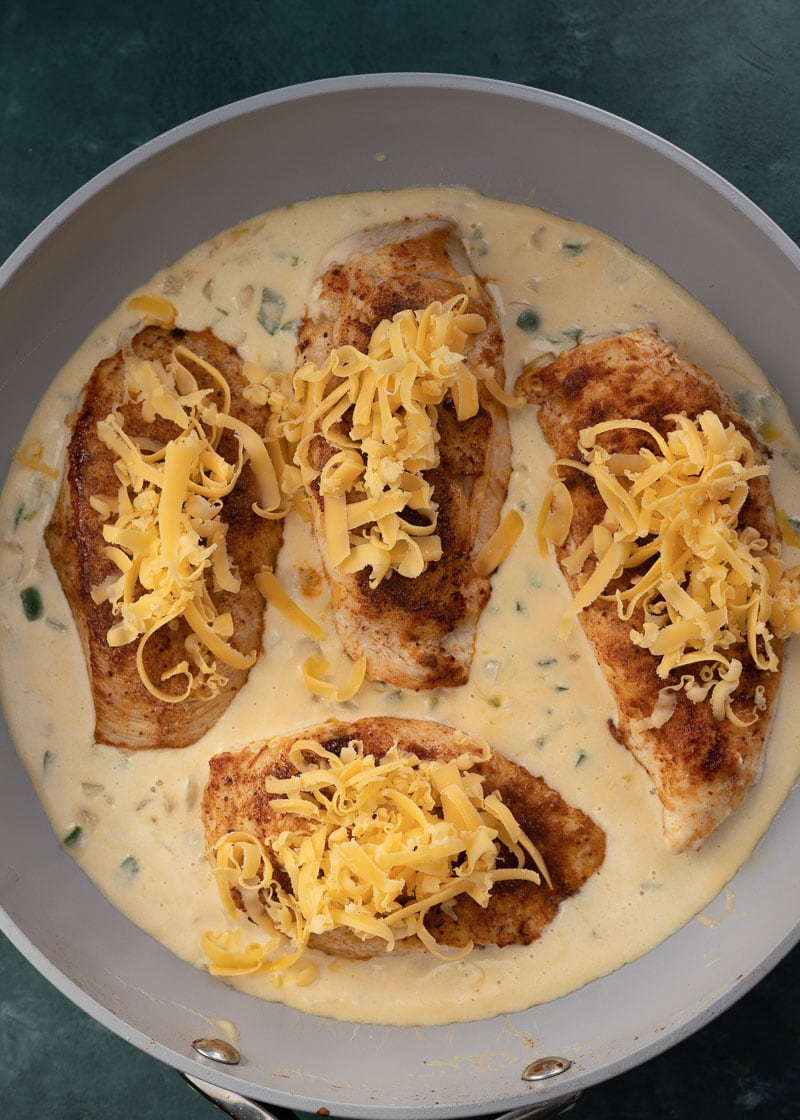 Add Chicken to Pan
Once your cheesy sauce is smooth, add the chicken breasts to the skillet, and then cover with the rest of the cheese. Cover with a lid, then let the meal simmer over low for 6-8 minutes. When the chicken reaches 165 degrees F, the meal is ready to serve!
Can I Make This Keto Chicken Recipe in Advance?
Yes! This keto jalapeño chicken recipe can be prepped in advance and enjoyed throughout the week. I recommend reheating leftovers in a skillet over low heat (microwaving chicken often dries it out, but you can totally do that too!).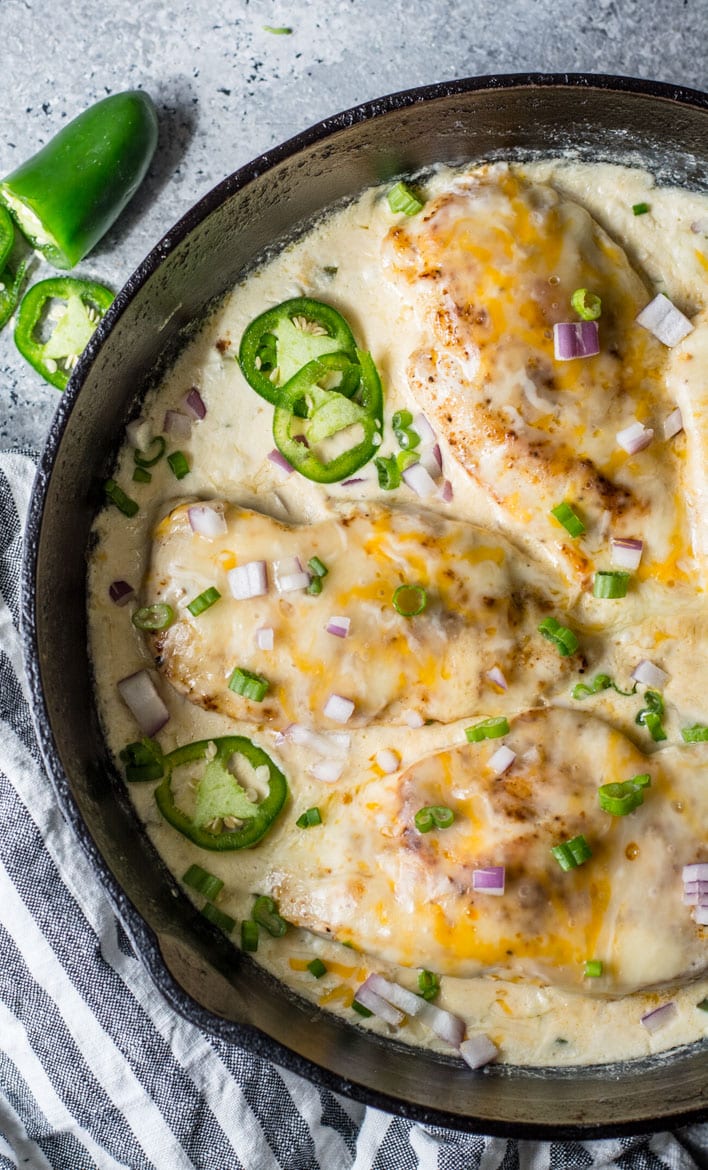 If you like this Keto Chicken Recipe, you'll love these meals:
FAQ's about Keto Chicken Recipes
Do you have to use chicken breast?
No, this recipe can be made with any boneless, skinless cut of chicken. If your cuts are smaller or larger than the average chicken breasts, your cooking time may be different.
Can I make this keto chicken dinner ahead of time?
Yes, this recipe works well as a meal prep dinner. It's fantastic for leftovers, and it reheats easily. You can even freeze this for about 3 months. The sauce may become a little grainy after thawing, but whisking in a little lemon juice or warm heavy cream can often fix the texture.
What if I don't like spicy food?
You can replace the jalapenos with a can of green chilis. They are milder but will still provide a little bit of heat to help the seasonings pop.
What if I like it super spicy?
To increase the spiciness, include the jalapeno seeds in the sauce. You could also use stronger peppers or add an extra jalapeno or two.
What types of cheese work best?
Cheddar is my favorite because the sharp flavor is strong enough to balance out the jalapenos. Pepper jack would also be great if you like spice.