This easy Crockpot Crack Chicken requires just six ingredients and is always a hit at parties! This easy chicken recipe is loaded with ranch, bacon and cheese, making it perfect for salads, wraps, sandwiches and more!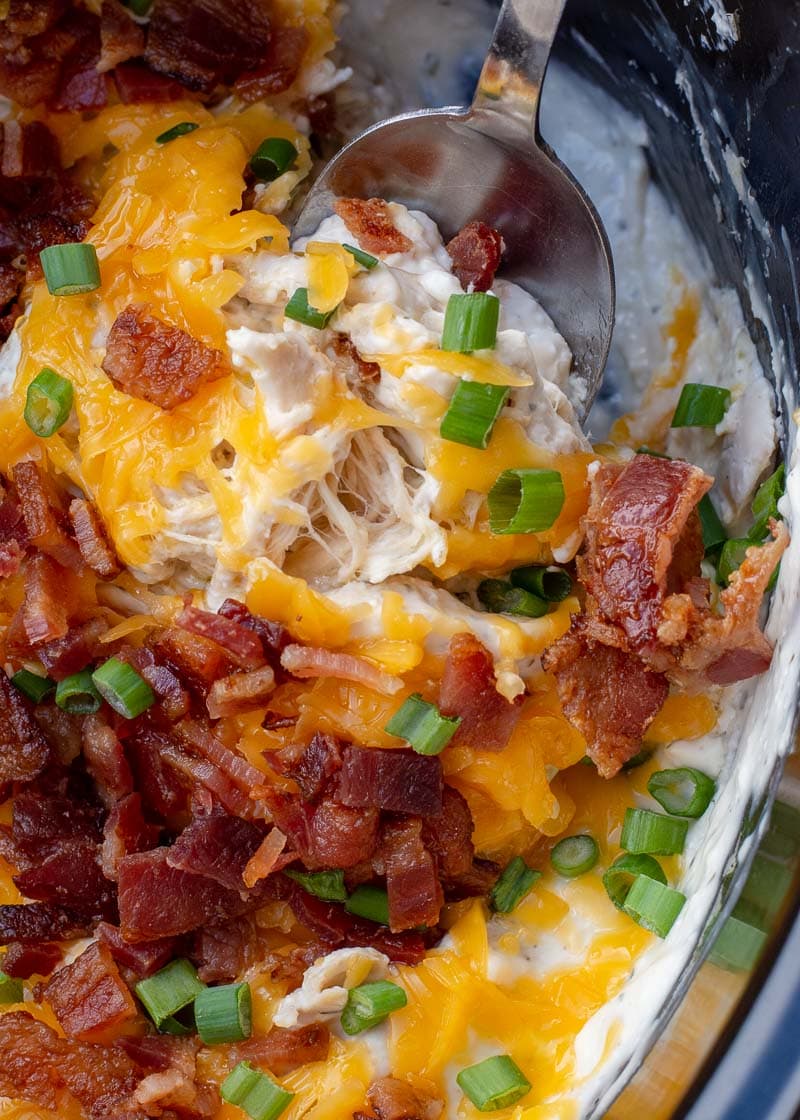 This recipe is magical. You only need six basic ingredients you probably already have on hand and a slow cooker and you have a meal everyone will rave over! This chicken is referred to as "crack chicken" because it is so addicting. The combination of chicken, bacon, ranch and cheese is one that is truly hard to beat! This is a great meal to take to a party. It can be enjoyed with chips, on wraps, sliders, salad and more!
Ingredients for Crack Chicken Recipe
As always, this is a quick overview of the ingredients you will need for this recipe. For the complete, printable recipe just keep scrolling. To make this easy crockpot chicken recipe you will need:
Chicken: I use boneless, skinless chicken breast for this recipe, but boneless thighs will also work if you prefer a different cut of meat.
Cream Cheese: you can technically use a reduced fat cream cheese in this dish, but I would recommend using full fat cream cheese. The reduced fat version just does not melt as smoothly. If you use the full fat cream cheese your dish will have a better texture.
Ranch Seasoning: you will need a packet of Ranch seasoning, not the liquid dressing.
Cheese: Sharp cheddar cheese has my vote, but your favorite variety will do.
Bacon: crispy, crunchy freshly cooked bacon. Skip the prepackaged bacon bits for the best flavor.
Green Onions: this adds the perfect zip to this recipe!
How do you make Crockpot Crack Chicken?
In addition to the ingredients listed above you will need a slow cooker. For this recipe I find a 4 quart slow cooker works perfectly! Follow along below to see the exact step by step process for this recipe.
Add Chicken to Crockpot
Spray the bottom of a 4-6 quart slow cooker with cooking spray. Add the chicken directly to the crock pot. You do not need to cut or brown the chicken before hand. Easy peasy!
Add Cream Cheese and Ranch
Sprinkle the Ranch seasoning directly on the chicken. Add the blocks of cream cheese to the slow cooker. There is no need to soften the cream cheese or do any prep work. This is a true dump and go meal! Place the lid on the slow cooker and cook on low up to 8 hours or on high 3-4 hours. The chicken is done when it has reached an internal temperature of 165 degrees F.
Shred the Chicken
When the chicken reaches an internal temperature of 165 degrees remove the chicken from the slow cooker and shred. Alternatively, you can just shred it right in the slow cooker and toss the chicken in the creamy ranch sauce.
Add Cheese and Bacon
After you have tossed the shredded chicken in the creamy ranch sauce top with shredded cheese, crispy bacon and green onions! Place the lid back on the slow cooker for a few minutes to give the cheese a chance to melt.
Serve
You can serve this Cheddar Bacon Ranch Chicken right from the slow cooker. It can be served over a salad, as tacos or wraps, sandwiches or with chips! If you are low carb you can make an amazing keto-friendly pressed sandwich by adding the Crack Chicken to chaffle buns and placing in a sandwich press! This happens to be our favorite way to enjoy this meal!
Recipe FAQ
How long do you cook Crockpot Crack Chicken?
This chicken recipe cooks on high for 3-4 hours, or on low for 7-8 hours. The cooking time is given in a range because all slow cooker cook differently. Some cook much fast than other models. The chicken is done when it has reached an internal temperature of 165 degrees F.
Why is it called Crack Chicken?
The combination of chicken, bacon, ranch and cheese is often referred to as "crack chicken" because of its addictive nature.
Is this recipe gluten free?
Yes, this recipe is naturally gluten free.
Is this recipe keto?
Absolutely. This recipe is low carb and keto-friendly. The nutritional information is listed below the recipe.
Other Crockpot Chicken Recipes